Category Archives:
Internal Decisions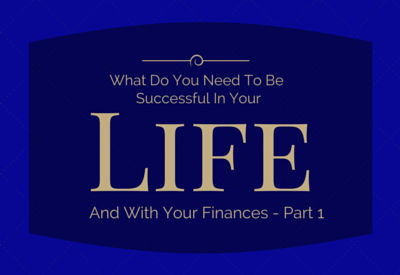 What Do You Need To Be Successful In Your Life And With Your Finances?
Is that something that you think about?  Is it something that you even care about?
Life is going by so quickly that sometimes it may be hard to even take the time to think
about those questions.
This is what I've learned about having any kind of success in any area of life, and that
is that if you don't plan and write things down on paper, then life is just going to drag
you along whatever course it wants to and that it's usually not the course you really
want to be on.  It's from past experience that I know this really well.  Boy, it really
can be trying.  It affects everything about you from your mental state, to affecting you
spiritually, physically and emotionally.
For some strange and crazy reason, women love to live in pain – all kinds of pain and
for long periods of time.   It might be that we can handle pain better then men! 😉
You know…It's far and few between that women are taught how to be successful in
their own personal life.  These things need to be taught starting from when a woman
is young, even as early as pre-school.  In fact that's the perfect age to start teaching
a little girl some of the things she'll need to learn and understand because at that age,
she doesn't know very much at all and is open to learning, is curious and can I say
very smart for her age.
Having success with your finances is all part of the learning process that needs to
happen at a young age as well.  It's also connected with the successes you have
in your personal life, it may not seem like it's connected but it is.
The fact is that we need money to live here on earth, there's just no way around it.
So what do you do when you aren't successful with your life and your finances?
With that said, what can you do about it now?  Obviously you have to start right
now where you are and go from here.  There's no possible way of going back
and re-doing your childhood and adult years.  All is not lost!  There's no better
time then now to learn the success habits that you will need to move forward.
There are many different keys to unlock your success.  Some work better then
others because were all different.  But there are a few basic keys that will help
everyone.
Do you want to know what some of the basic keys to unlock your success is?
I hope so, I want you to be successful in your life.
One thing that I say all the time is to 'write things down on paper', that's where
the magic happens.  It's funny how often women will say that they have all of
their goals, dreams, to-do list all in their head.  There's just no possible way
that any of that stuff in your head will all happen in the way that you want
them to.
Write everything down on paper that is floating around in your head.
That is your assignment (if you want to call it that) for this week.
I will have part 2 of this article next week, so stay tuned for more.
Remember, write everything down and get it out of your head!
Aloha, Janin
Posted in

Articles, Finances, Inspiration, Internal Decisions, Learning, Money
Tagged

awareness, Choices, confidence, Courage, Finance, Happiness, Inspiration, Learning, Making Decisions, Money, Success, Woman
Leave a comment